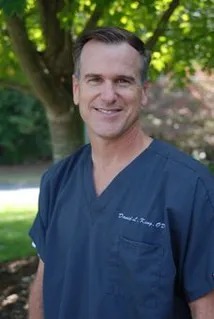 In July of 1987, Dr. King began his practice in China Grove, NC. He has been seeing patients from here and the surrounding areas for more than 30 years. In May 2013 Dr. King was presented the John D. Robinson Clinical Excellence Award by the North Carolina Optometric Society.

His professional responsibilities include the following:
*Clinical Examiner, North Carolina State Board of Examiners in Optometry
*Disease Examination Development Committee Member, National Board of Examiners in Optometry
*Member, North Carolina Optometric Society
*Member, American Optometric Society
*Past member, Board of Directors, Rowan Regional Medical Center
*Former Chairman, Rowan County Board of Health
*Volunteer, Good Shepherd's Clinic, Salsibury, NC
Outside of the office, Dr. King has traveled to Guatemala on many mission trips. He is an accomplished vocalist and guitarist as well as seven time finisher of the Ironman Triathlon in Panama City, Florida. Dr. King and his wife Susan have four children and three grandchildren.